Cork Massage Ball
₹500.00
Everyone loves getting a massage, but it's not always practical to get them frequently. With these cork massage balls, you can give yourself a massage every day! Relax and de-stress your body while doing your part for the environment with cork massage balls.
How Cork Massage Ball is beneficial to you ?
Improves blood circulation

Relieve tightness

Decrease soreness

Ease joint and muscle pain

Work out any knots

Increase flexibility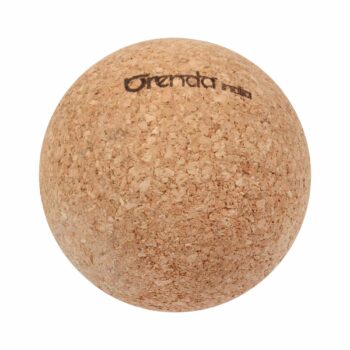 Smooth surface to iron out any knots
Extra-firm surface for deep massage
Light in weight
Ecofriendly
Diameter – 64 mm (2.52 Inches)
Weight – 100 grams (3.53 Oz)
Place it under the arch of your foot and apply pressure to the ground for pain relief.
Place it between your shoulder and wall to release knots.
Rub it over your neck muscles.
Soften the tissues on the waist.
Place it under your lower back to relieve pain.
Cork Massage Balls are lighter in comparison with  other synthetic material balls as rubber balls and getting a grip over cork is as easy as it is on rubber balls. These cork massage balls can be used anywhere!
100% cotton travel bag included.
Massage yourself at home,  parks, gyms, yoga studios, or while heading to work in a cab. Perfect size and weight for carrying around.